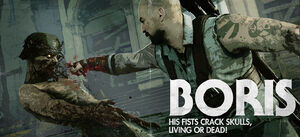 Boris is one of the four playable survivors in Zombie Army 4: Dead War.

He's lived through darkness, and has a real knack for cracking undead skulls – Boris is back to take on the horde! part of the previous squad to fight and kill hitler at the hell mouth
Boris – This Prisoner:
One might recognise Boris as one of the OG's who sent Hitler back to Hell in the last zombie laden instalment. Despite his clear skillset and seeming immunity to violent acts, his disdain for authority would almost certainly have meant that without an apocalyptic outbreak, he would be rotting in a prison somewhere! Make no mistake – Boris's prison tattoos reveal a very dark former life. His loyalty to the team despite his hardships is unwavering.
Strengths:
Special Melee attacks charge faster
Improved melee
Weaknesses:
Community content is available under
CC-BY-SA
unless otherwise noted.